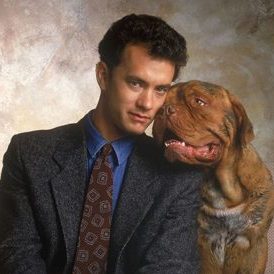 Outdoor Cinema: Turner & Hooch (PG)
10th September 2022
Good dogs welcome!
Join us for this dog-friendly movie screening under the stars on the private lawns of the Stubbings Estate.
Our doors will open at 5:30pm for ticket holders to enjoy the private estate and gardens of Stubbings. You can arrive to enjoy the grounds, have a drink from the bar and delicious food from Heat & Soul (Caribbean street food provider who pride themselves on fresh, quality ingredients).
Turner and Hooch (PG)
Academy Award® winner Tom Hanks stars as Scott Turner, a compulsively neat detective whose tidy world goes to the dogs when he's forced to team up with a drooling slob of a junkyard dog named Hooch. Not exactly man's best friend, Hooch turns Turner's life upside down, wrecking Turner's home, career and budding romance! It's a hilarious non-stop test of wills between this mismatched duo, leading to the most unlikely friendship you've ever seen!
Watch the trailer.
Running time: 99mins
Director: Roger Spottiswoode
Certification: PG
Production Year: 1989
Distributor: Disney
Turner and Hooch © Touchstone Pictures
Dogs are welcome but please ensure they are kept on a lead at all times and are well-behaved. We reserve the right to ask you to leave if your dog is disturbing the event. Max two dogs per adult.
Doors open at 5:30pm, Film starts around 7:30pm.
This event will take place on the private grounds of Stubbings Manor House.
Access to the venue will be via the Plant Centre, through the Walled Garden and onto the lawns of the House.
The film will be projected onto a large screen in the open air.  For this reason the film screening will not commence until sunset.
Please see our event terms and conditions here.
Ticket holders are reminded to check the age rating of the film they would like to see, and are responsible for checking the suitability of the film for their ticket holders. If buyign general admission tickets, please bring something to sit on such as acamping chair or picnic blanket. Deckchairs are available to hire separately.
Please do not bring alcohol into this event.
Please see our event terms and conditions here.